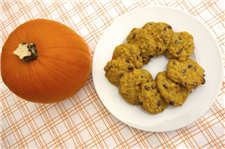 Are you tired of the same old die-hard fall recipes that come around every year? There are ways to indulge in the tastes of the season without making the same pie over and over again. If you love pumpkin, but you're looking for something different, check out this quick and easy recipe for pumpkin chocolate chip cookies from San Francisco Toyota. They're a delicious, cake-like, sweet but not too sweet new fall staple to add to your recipe box.
Ingredients
(Makes 2 dozen cookies)
2 ¼ cups all-purpose flour
1 tsp baking powder
½ tsp baking soda
1 ½ tsp pumpkin pie spice
1 cup butter, softened
1 cup lightly packed brown sugar
2 eggs
1 (16 oz) can 100% pure pumpkin
1 tsp vanilla extract
1 cup chopped walnuts (optional)
1 (12 oz) bag semisweet chocolate chips
Directions
Preheat oven to 375 degrees F, and grease two cookie sheets.
Mix flour, baking powder, baking soda, and pumpkin pie spice together in a medium bowl.
Beat the butter and brown sugar together in a large bowl until light and fluffy. Beat in eggs, one at a time, until smooth. Mix in the pumpkin and vanilla extract until smooth. Gradually add flour mixture, stirring as you add to make a smooth batter. Stir in nuts and chocolate chips.
Drop tablespoon-sized spoonfuls of the batter on greased cookie sheets and bake until edges are golden, 10 to 20 minutes.
The team at San Francisco Toyota wishes a great fall to you and your family!